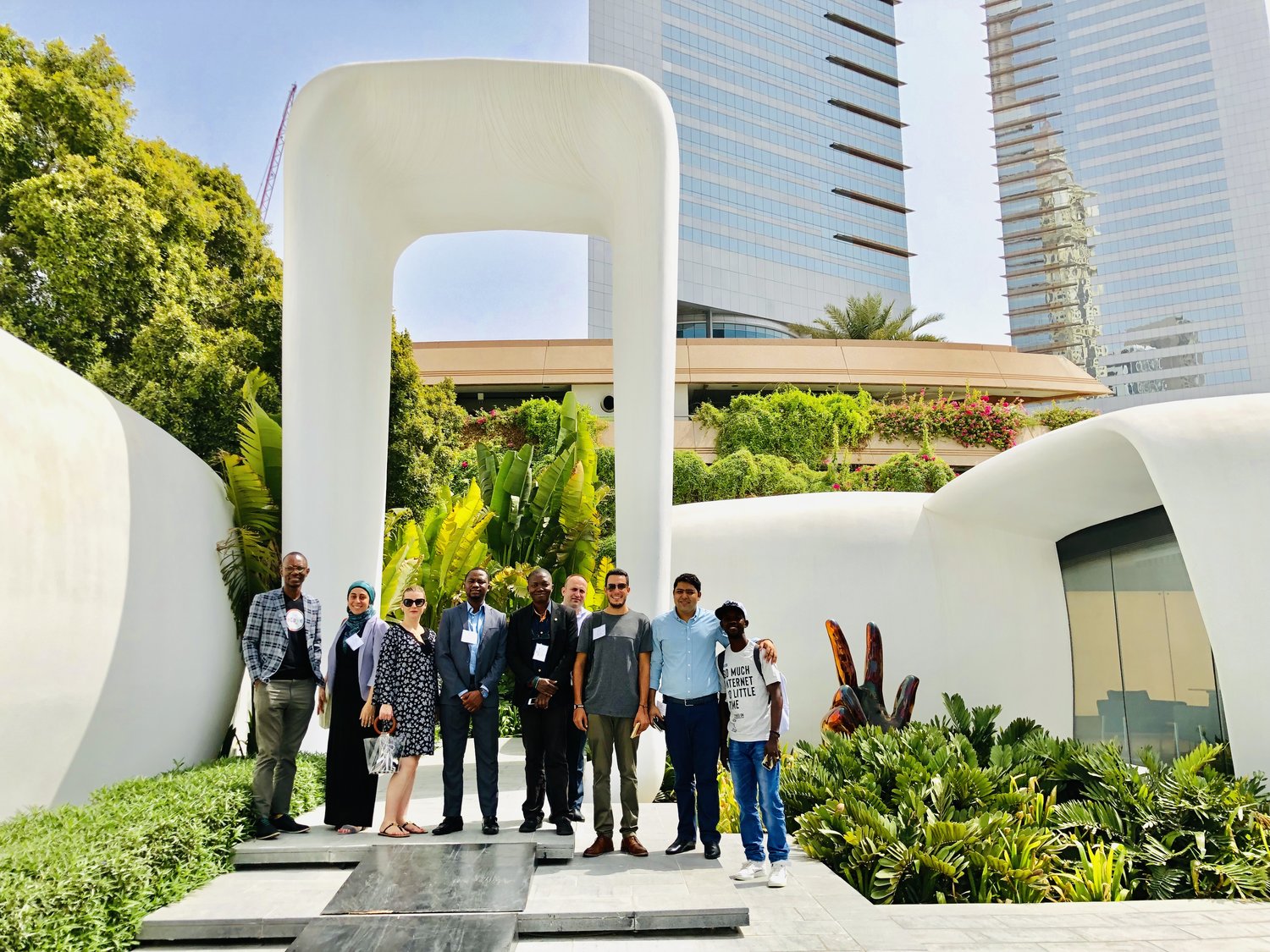 originally published on Open Gov Hub
What happens when you gather 10 social change leaders from 8 countries and 4 continents to spend 4 days learning about how to run better civic innovation hubs?
A lot of learning, and a lot of fun (and some mall and cruise ship tours too – keep reading :).
WHY WE GATHERED
Our first-ever retreat with our six Global Affiliate Open Gov Hubs in Dubai (a central location for our global participants) had three goals:
Financial and management capacity building – supporting each hubs ability to be 100% financially self-sustaining and well managed
Fostering hub-to-hub collaborations – getting to know other affiliate hubs and identify specific ideas to collaborate
Peer learning on shared themes/topics – sharing tips and ideas on how to tell stories about the social impact of our community, how to address civic space challenges, and how to promote collaboration across our communities/networks
WHAT WE STUDIED
Each day of our retreat focused on a key topic:
Financial Management Day
focused on how to set achievable financial goals, make managerial accounting easy, and how to increase earned revenue (even as nonprofits)
"Hub in a Box" Training Day 
A Hub management crash course covered everything from vision, strategy, business model and budgeting to team/organizational structure and marketing and branding. All participants were paired into teams and tasked with building a new hub from scratch for the day, to help encourage fresh thinking outside the box
Peer Learning Day
Shared good practices and our respective experiences dealing with closing political/civic space challenges, honing tools to improve storytelling about our work, and tips and tools to better foster collaborations in our networks
Hub-to-Hub Collaborations Day 
Our final day was focused on getting to know each hub's unique strengths and challenges – each representative gave a 5-minute Ignite Talk! (a persuasive format we often use in DC) – and beginning to brainstorm hub-to-hub partnerships
We also formally announced the launch of our first-ever Collaboration Fund for Global Affiliate Hubs, which will provide one or a few small grants for innovative and high-impact collaboration projects between two or more hubs in the affiliate network
Based on feedback, participants said they especially enjoyed learning about:
Rules of thumb for effective financial management (ex: avoid financial targets more than a 30% increase from your actual financial performance this year to be realistic; know your key clients/partners and proactively manage those relationships; before thinking about growth, first make sure you maximize use of your existing assets and services) and especially getting access to ready-to-use Excel models for financial management and planning (thanks to our Atlas Corps fellow Anastasia for creating those!);
The simple yet profound public narrative framework for better telling compelling stories about our work ("Story of Self, Story of Us, Story of Now,")
Successful marketing and branding tactics from corporations and how to adapt those for us as nonprofits and social enterprises
A FEW TOP TAKEAWAYS FROM THE RETREAT CURRICULUM
It's critical for each hub to develop a list of core values, and relentlessly stick to it. This can help serve as a compass to help recruit the ideal community of members you seek, and help decide which partnerships to pursue.
Always start with a crystal clear understanding of your mission and of your value propositions (in other words, what key problems are you solving and for whom?). These two things combine to serve as a roadmap for social enterprises like our hubs. And it is critical to develop and refine your core model of how you address these things – both your social impact model, and your business model –  before attempting to scale. Many startups have failed because they tried to scale too fast.
Stories are fundamentally what moves human beings to action. And every story has a few building blocks: character, challenge, choice, outcome, and moral/environment. And all of us can use storytelling fundamentals and the simple public narrative framework to more persuasively convince others to join us.
Collaboration is both an art and a science. This means as Hub leaders we need to regularly uncover information about shared interests and needs between people and groups, and build a strategy of collaboration activities that maximize the value of joint activities. But at the same time, we should focus on cultivating community traditions and implicit norms and cues that define our community culture. Because in the end, as the popular business quote from Peter Drucker states, "culture eats strategy for breakfast."
A FEW SPECIAL HIGHLIGHTS
In addition to classroom-style sessions, we did many unique activities together.
A video call with DC Hub member IMAGO – who shared their expertise in supporting grassroots social enterprise to scale, and shared a fascinating case study about the largest NGO in the world, BRAC.
Two visits to unique hubs in Dubai: one called Kiklabb on a former luxury cruise ship-turned permanently docked hotel (!), and the other called Area 2071 in Emirates Towers, amidst a true mall of numerous innovative hubs (only in Dubai? 🙂
Team building through a city excursion and riverboat ride – forging relationships takes time of course, especially with people coming from such wide-ranging cultures and communication styles. But this was an important focus of the retreat as well – and will continue to stay in touch through videocalls, WhatsApp, and more.
OTHER THINGS WE LEARNED 
Burnout is real, but peer relationships can help combat it – we chose to start and end our retreat with each person anonymously taking the Nonprofit Burnout Assessment. As a group, all but one person showed significant signs of burnout. Fortunately, the group's average burnout score decreased by 25% when we took the same assessment again at the end of the retreat. We suspect this is because being with people who share your values and can relate to the unique challenges of your work, and learning new tools and tricks to save time and better do your job, is motivating and encouraging.  Sometimes, people just need to feel that they are understood to get inspired.
Avoiding technical jargon can save us a lot of trouble – During the retreat, we developed a list Forbidden Jargon – mushy and often-used buzz words that couldn't be used during our sessions (words like "ecosystem," "civil society" and "innovation." Though challenging, this helped each of us become more aware of simple, straightforward language we can use to talk about our work. This is key to help draw new supporters to it – not just the usual suspects.
Never stop learning – Finally, although I was a lead facilitator of this Retreat and although OGH in DC is 7 years old compared to our younger affiliate hubs, I still benefited from participating in the same exercises! For example, I realized it's helpful to complete the Impact Business Canvas exercise every 6 months or so as a hub leader and with key partners, to help give us strategic clarity, and continually adapt for greater impact.
NEXT STEPS 
This fall, we will continue a variety of activities with and between our Affiliate Hubs to deepen peer learning and support relationships between us.
At the Retreat, we announced our first Collaboration Fund for Affiliate Hubs (a $10,000 seed fund), which will include a competitive process of two or more hubs jointly applying for small grants to fund mutually beneficial joint projects. We will continue in-person other signature activities in our program: Staff Swap visits to different hubs, Virtual Exchanges and Peer Mentoring calls, and work to enhance Open Gov Hub's own learning and evaluation framework to better understand how to support our partners and scale up our impact – through our Global Affiliates Program – in the process.
Through all these collaborative activities, we hope that by the end of 2019 we will see tangible progress in each of our hubs sustainability levels, and strengthen knowledge sharing across a truly unique global network of civic innovation hubs, to enhance our collective local and global social impact.